Cromax has been designed to help customers achieve their goals while driving productivity from the front of the body shop to the back. Count on us for coatings systems made to support the easy, quick and accurate application; for business and marketing support to help you take your business further; and for innovations designed to simplify and streamline the refinishing process.
Basecoat offering
Everything in the Cromax line is scientifically formulated to help enhance productivity in the shop and high performance on the road. Our Basecoats are no exception. Are you looking for high blendability, high hiding, or ultrafast application in a single visit? Cromax basecoats are designed to offer you solutions.
Why Choose Cromax Pro?
Cromax Pro is a basecoat designed to deliver a single-visit application with 1.5-coat coverage for the majority of colors with no flash time required between coats to help reduce steps in the repair process. Solid, metallic and pearl colours are clean and bright to help a technician easily and accurately match OEM finishes. See? We told you it was better.
All the colours you could want — solids, metallic and pearl — to help with an excellent colour match to keep customers happy.
One and done. Single-visit, 1.5 coat application for most colours should mean better coverage in less time.
Fewer coats mean less worrying about dirt and contamination.
Apply wet on wet without waiting. No flash time required between coats means faster cycle times.
Helps to reduce time and energy costs thanks to fewer bake or drying cycles.
System offerings
It's not just the finish that's important. It's the whole start-to-finish system that determines productivity and performance—in the shop and on the vehicle. Cromax systems are designed to be easy to use, quick to apply, quick to dry, and durable on the road and over the years.
CROMAX PREMIER LE SYSTEM
A complete system of low-VOC primer, sealers, and clearcoats designed for consistent quality, appearance and durability, and to make spot, panel and overall repairs easier and faster.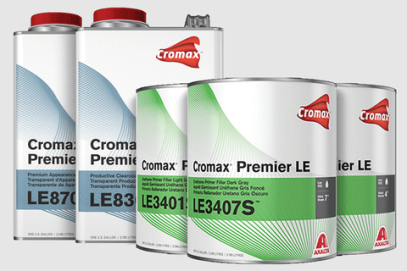 Cromax LE System
A system of low-VOC primers, sealers, and clearcoats designed for premium appearance and optimal productivity.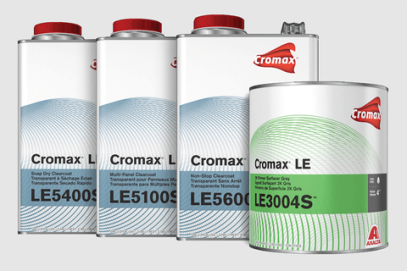 For more information about this product contact us here.