Compact, user-friendly and quality that lasts
Challenger is a compact refinish coating system formulated to offer excellent value with quality backed by Axalta's global technology resources. A compact, easy-to-use refinish paint system, Challenger supports quick turnarounds with favourable drying times and colour-matching accuracy that is designed to help body shops produce exceptional repairs time and time again. Around the world, Challenger translates into European quality and easy application.
Why Challenger is the right choice?
User-friendly
From spot repair to total respray
Fillers that are easy to sand
Optimized curing times
Wide application window
Effortless polishing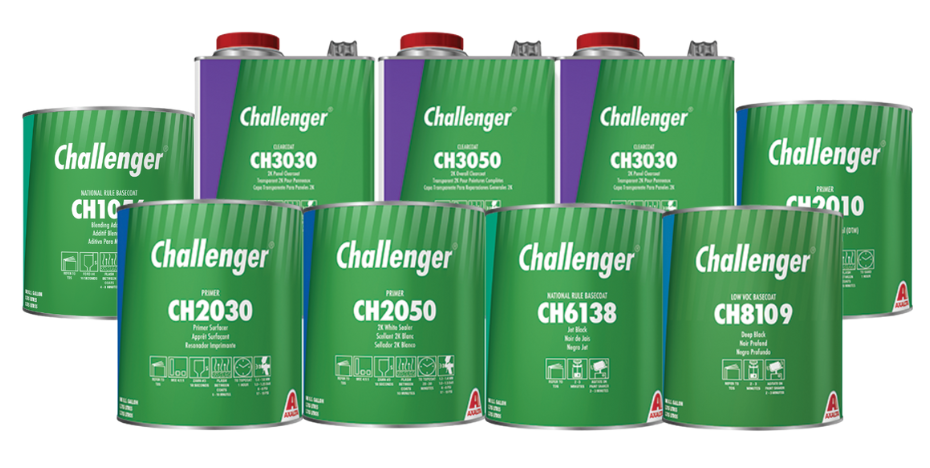 Clearcoats
CL200 protects the colour of a basecoat from exterior influences, such as the weather and scratching. With a gloss or matte effect, Challenger clears will bring out the best of any basecoat.
Foolproof 2K MS Clear with wide application window
Mixed 2:1 (Refer to the TDS)
Fast curing…both initial setup and through dry – even with slow hardener
Excellent levelling and flow
Suitable for solvent-borne basecoats
Fast drying and high gloss
Very good final appearance
Primers
Challenger primer fillers are chromate-free and are based on acrylic urethane technology. It makes the surface smoother, protects it, and improves the ability of the basecoat or topcoat to bind to it. Challenger primers can be easily applied and sanded according to the requirements of the job.
New and improved formula
High Build Primer used at 4:1 with no thinner or can be thinned at 10% if required.
Dry Film Builds up to 250 microns
Very good levelling and hold out – even with the unthinned 4:1 ratio
Good vertical stability and filling properties
Good topcoat holdout and edge map resistance
Easy to sand and can be air or forced-dried
Hardeners
A hardener is a reactive chemical that hardens a 2K top coat by inducing polymerization. Challenger hardeners are available for every situation and layer, from filler to clear, providing the desired behaviour when you apply a Challenger 2K coat.
EXTRA FAST: Recommended particularly for use with Challenger 2K HS Primer Filler.
FAST MEDIUM: General purpose hardener suitable for both Challenger 2K HS Primer Filler and Challenger 2K Clear.
SLOW: Recommended particularly for Challenger 2K Clear in hotter conditions and/or larger areas.