Since the company began in 1972, Rondex has been proudly providing world-class products to body shops in Manitoba, Ontario, and British Columbia.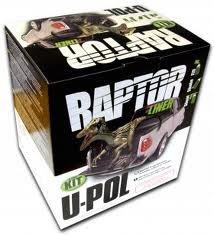 One of our responsibilities as a leading supplier (and one of the reasons we maintain that position) is to sourcing the best materials for our clients. We're passionate about Auto Body, and about products that will give our customers a competitive edge for their businesses.
One of these new products is the RaptorTM spray-in bed liner from the UK based U-Pol.
U-Pol is a global leader in coatings and products for the auto body industry, with a broad portfolio of famous brands. The company is dedicated to new product development in all areas of the auto body industry. With the creation of the RaptorTM bed liner, they've acknowledge the popularity of spray-in protection for pickup truck beds, and developed a product that provides excellent protection of the surface against rust, corrosion, salt, damp, and extreme temperatures. The super-tough urethane coating can be readily applied from your existing schutz gun, or even with a roller or brush. It's available in black and tintable versions.
By choosing U-Pol's RaptorTM bed liner, you can offer your clients a superior product that will restore even the most beaten and scratched truck beds to a factory-fresh look. This product offers high adhesion, is waterproof and flexible so that it will provide durable, lasting protection that will keep spread among your customers through word-of-mouth, and keep them coming back.
At Rondex, it's our goal to use our 40+ years of expertise in the Auto Body Industry to provide the highest quality products, best service, and most useful technical advice that we can.
If you have questions, or have found something on our website that you want to order, contact any of our locations online, or call our Winnipeg headquarters Toll Free at 1-877-RONDEX2 (776-3392).